Control your smartphone navigation from the handlebars
The BarButtons enable you to control smartphone navigation without lifting your hands off the handlebars. The rugged remote control is designed to fit most bikes and can be operated with gloves. Pan, zoom & center your map, scroll your roadbook and control your music. Apps that work with the BarButtons are Drive Mode Dashboard 2, Osmand, Kurviger, Waze, Piste Roadbook, Locusmaps, and many more.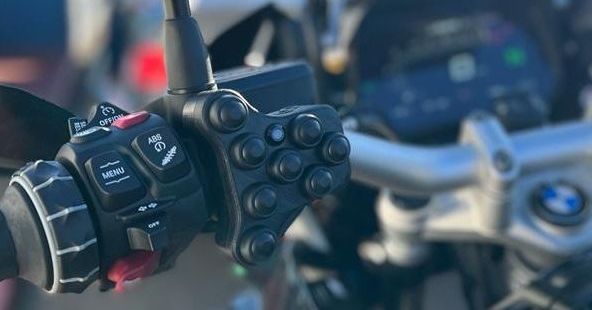 Motorcycle riders use smartphones for navigation more often, and this is for good reasons!
Waterproof, rugged, shockproof phones are affordable and cheaper than a gps unit.
Phones are fast and have a lot of storage. No more problems with storing large detailed maps!
Many high-quality navigation apps are available, including Osmand, Kurviger, Locus and Rally Roadbook Reader. Updates are frequent and easy
Phones are easy to mount and can charge wirelessly.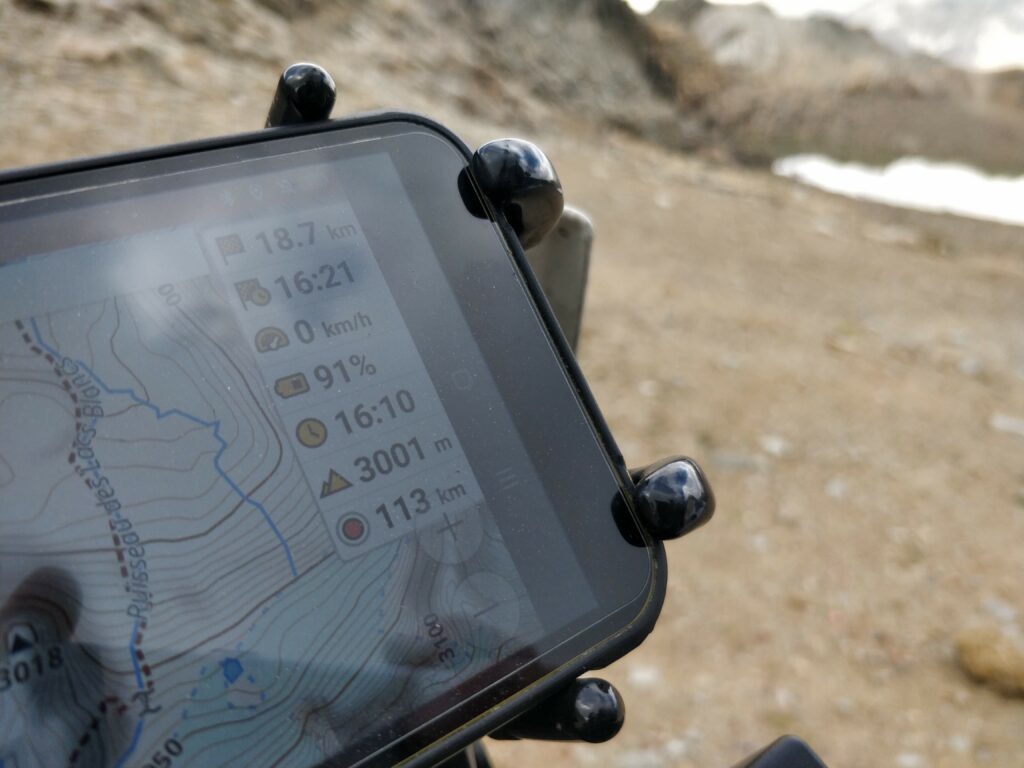 The downside of using a navigation on your motorcycle, especially on a smartphone, is that it's hard to operate while driving, especially offroad. Smartphone screens are sensitive and not all gloves are compatible. So you have to stop, operate your phone, and continue. This breaks your rhythm and is simply annoying. Things you need to do typically include
When offroad riding: Zoom in on a technical section, or zoom out for alternative routes
When touring: Zoom or pan to find spots for a break or to see the entire route
When riding a rally: Reset the counters and scroll the roadbook
When road riding: control music and switch to 'traffic apps'
Introducing BarButtons!
BarButtons connect to your phone via Bluetooth and control popular navigation apps
Left-hand side of the handlebars mounting so they are easily accessible without letting go of the throttle
They are rainproof, rugged, and perfectly suitable for gloves
Most popular applications are compatible including Osmand, Kurviger, Locus, Rally Roadbook Reader and more. See a list of application details here.
They look awesome 😎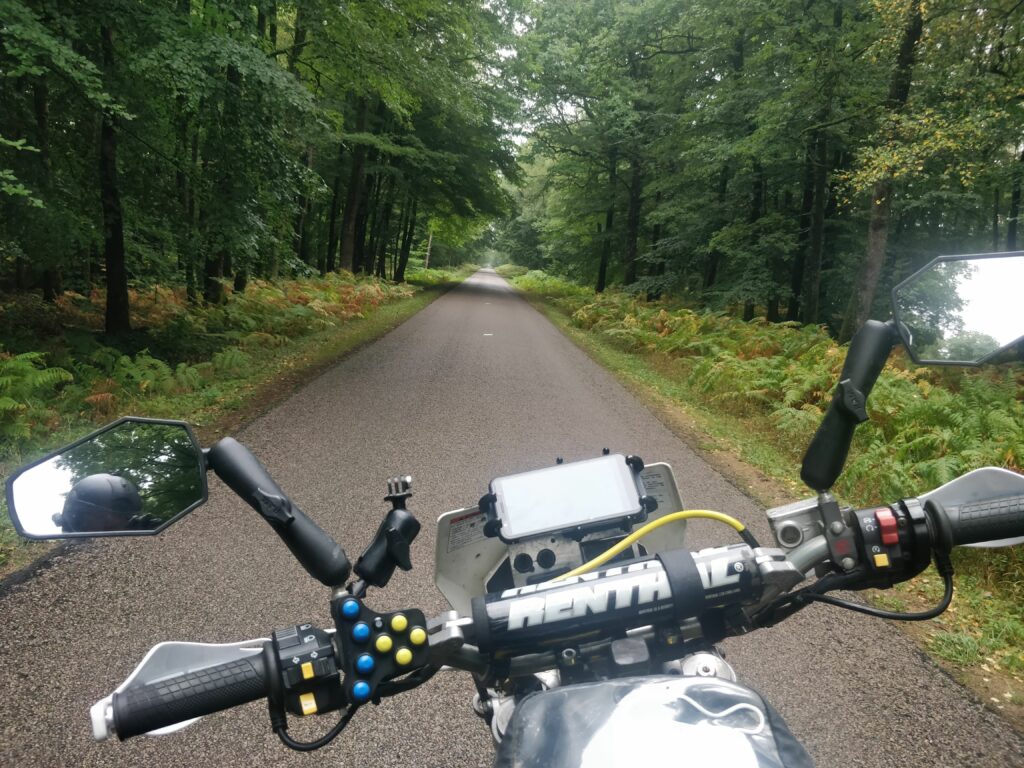 How do the BarButtons work?
The BarButtons are basically a Bluetooth keyboard in a small box. Most navigation apps support keystrokes to control the application. This works out of the box!
The buttons are mapped to keys that control your application. Different keymaps can be selected for different applications. A list of all current keymaps is available here.
The firmware can be updated via Wi-Fi for new keymaps and features
Read the documentation on how to use it here
Does it fit your bike?
BarButtons fit on almost any bike with a 22mm handlebar. It is designed with a little bit of overhang so that it is as close to your hand as possible. The default distance between the overhang and the handlebar is 10mm that should accommodate most mirrors and small controls. You can add spacers to incrementally add 5mm to be compatible with bikes with larger controls.
The BarButtons are USB powered, so you need to have a switchable USB power supply available.
For more information about installing BarButtons click here.
What do others say?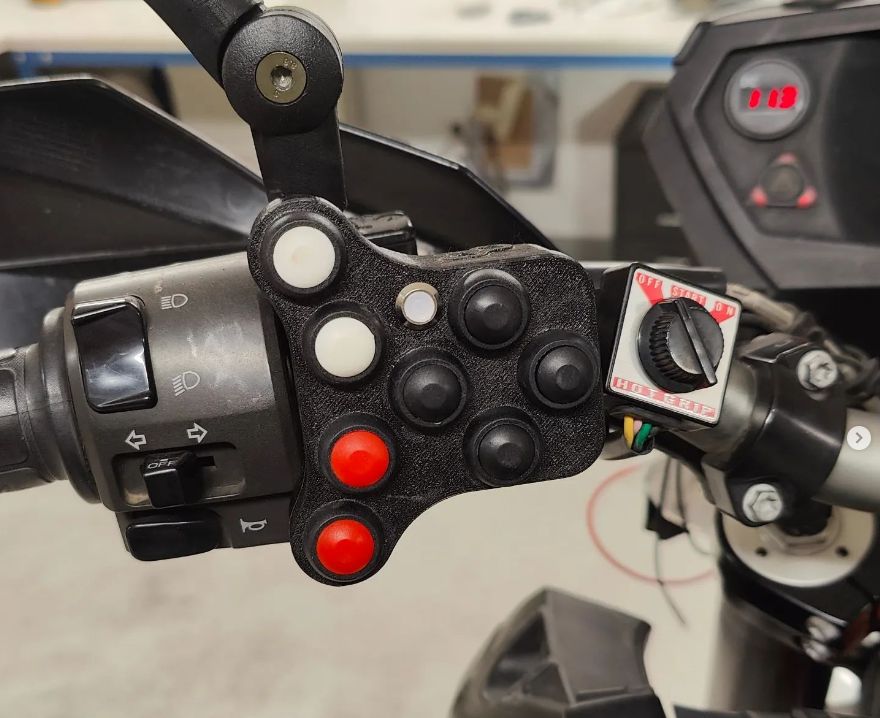 Bought it as a DIY kit and it was nice little tinkering to build. Some soldering and sealing everything to be watertight etc. First impression is that it seems to be a massive improvement compared to my old cheap BT remote. This works very well with #osmand but not so well with #locusmaps. Basic zoom in/out works with #karttaselain. I use #Samsung #activetab3 as a navigation device and it is mounted with #rammounts holder
Get BarButtons
The BarButtons are available in 3 flavors:
BarButtons diy
For tech enthusiasts
Get the kitlist, 3mf files, Arduino code and build your own BarButtons. Access to 3D printer, soldering iron and some IT skills are necessary
BarButtons kit
For lazy nerds
Get a package with all the components, including a 3D printed case, and a flashed Arduino. Access to soldering iron is required
BarButtons
For people who just want to ride
Get an assembled BarButtons ready to go! Basically the same as the 'kit' but I have assembled it for you