The goal of the trip was to continue the 2018 Balkan trip at Bosnia, since I did not get further than that. This time, with a lighter bike: the Suzuki drz400s. I had 3 weeks time at the end of August and early September. The plan was simple:
Go from the Netherlands to Bosnia relatively quick while taking scenic routes through the Alps, Slovenia and Croatia.
Hop on the Trans Euro Trail through Bosnia, Montenegro and Albania
Take the ferry to Italy, visit Toscane, Cinque Terre and the Alpes adventure motofestival, and go home.
Interestingly enough, the plan sort of worked out this time! No serious break downs or super bad weather. Some fun facts:
Most days were 8-10hr days of riding and the total distance was 6750km
Chased by shepherd dogs guarding their herd: 15 times (successful engagements: 0)
Budget:1300 euro for all costs during the trip, 45% of which was fuel and 125 euro for the ferry. Average daily budget was 60 euro. Just the time in Bosnia, Montenegro and Albania was significantly cheaper, averaging 30 euro/day.
Bike maintenance: 1 broken spoke on the rear wheel, 1 oil change, 1200ml of oil used, 0 punctures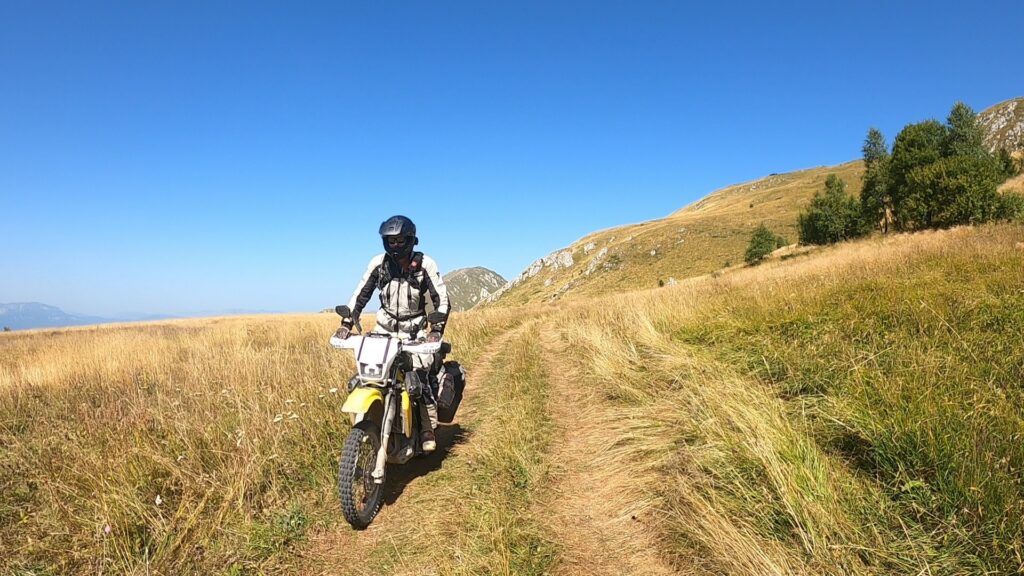 Section 1: Getting to Bosnia: Netherlands to Croatia (2250 km)
This section was a way to settle into the rhythm of riding while enjoying the scenery. I got a coffee table book for my birthday that showed a lot of nice routes: "Great motorcycle tours of Europe". I used the Romantische Straße in Germany as a start and added the Deutsche Alpenstraße to get further east. Both are nice and take you through medieval towns, views of mountains and anything inbetween.
I then took the route south into the alps from just a bit east of Salzburg. Since it was well above 30 degrees C I took a swim in the Attersee. Then visited Halstatt, but found that it is not as pretty as the background on my computer lock screen shows ;).
I loved the entry from Austria into Slovenia via Italy. The first thing you see are the massive mountains of the Triglav, very impressive. I loved the Slovenian countryside.
Croatia was very nice and a little bit familiar, especially since they now use the Euro. I went to the Zeljava airbase to check out this European version of NORAD and went up to a nearby cell tower station on the border between Bosnia and Croatia. This was tipped by Rod Young, where I went next to set up my tent. Rod is a TET enthusiast that offers his garden (and garage) to travelers.
Stats:
4 days (Aug 20-24)
36h moving time, 9h moving time/day
62km/h average speed, 550km/day average
Types of road: highway and b-roads, occasionally unpaved
Section 2: Bosnia & Montenegro (950 km)
Next up were the Bosnian and Montenegro TET. I did not really know what to expect, but was surprised at the beauty and diversity of the landscapes, and the friendliness of the people.
I entered Bosnia at the border between Knin (HR) and Glamoc (BiH). The TET followed a wooded section, but somehow I made a wrong turn somewhere and ended up at the same place I started after 120km. I ended that day at the bivouac of the Dinaric rally, very cool to see all the race bikes and pilots. The next 2 days the TET went through deserted areas of Bosnia with highlights such as the Ramshko lake, Sarajevo and the remnants of the '84 Olympics.
Stats:
3,5 days (Aug 24-28)
25h moving time, 7h moving time / day
37km/h average speed, 270km / day average
Types of road: mostly unpaved on TET, some connecting b-roads
Section 3: Albania (1300km)
The country I was looking forward to most was Albania. What a beautiful country it was! The people were lovely and the TET track in Albania was just awesome. Some highlights were:
Roundtrip to Theth, including the unpaved south route. Very nice scenery and a nice ride
Komani lake ferry and Doberdol: I saw Stefan Meitinger go here on his V-Strom and that looked very nice. Doberdol is in the north-east tip of the country and is popular among hikers. Also, the area featured in a Dutch TV show 'dangerous roads'. Very nice ride and quite challenging at the top of the Doberdol pass.
Spac prison: a gulag that was used by communist dictator Hoxha to eliminate critical thinkers from society. This site serves as a reminder of those times.
Lura park: a section of the TET that is maybe the most challenging part of the track. It runs on a plateau and the entry and exit are pretty tough to ride.
Riverbed south of Gramsh: a section of the track that runs inside a riverbed for 25km.
Wild camping and swimming: there are many places that are perfect for wild camping, and many streams that offer a refreshing dip at the end of a hot day.
Meeting other people: on the track I met up with Robert, Leon and Sebastiaan and rode with them for a few days. Very nice to meet like minded people!
Stats:
9 days (Aug 28 – Sep 5) Including 1 rest day
39h moving time, 5h moving time / day
33km/h average speed, 160km / day average
Types of road: unpaved on TET
Section 4: Italy & France, going home (2250 km)
The ferry from Durres (AL) to Ancona (IT) leaves at 17h and arrives the next day at 11h. Very convenient, because you can sleep on the boat. I set up my tent on the upper deck and enjoyed the stars as we sailed across the Adriatic sea.
I spent a few days more in Albania, so unfortunately i could not spend as much time in Italy as I wanted. The goal was to enjoy the Tuscan countryside for a few days, but this was only for 1 day. The other days were spent on the main roads for quite a bit.
Next up was Cinque Terre, a national park around 5 villages that are built on the cliffs that sink into the Mediterranean sea. Very nice, but not as picture perfect as I thought it would be ;).
Via the main roads I went to Cuneo and found a campsite just on the other side of colle della Maddelena. Interesting how a 35 degree day can have 5 degree nights! Next day was Alpes adventure moto festival where I met up with some people and attended a navigation workshop from the French TET linesman Benoit Farre.
After some fun in the French alps, including the col du Parpaillon and col de l'Izoard, it was on to the main roads back to the Netherlands.
4 days (Sep 6-10)
35h moving time, 9h moving time/day
63km/h average speed, 550km/day average
Types of road: highway and b-roads, occasionally unpaved
GPX tracklogs
I recorded the route in a tracklog on a daily basis. You can download all tracklogs here: Adriatic-Sea-Tour-2023-tracklogs.zip